by Richard Perkins
This week I finally installed a rain barrel. It probably would have been better to install it when we were still getting rain… I know.
At least we have it now. I looked for an affordable ready built unit for several months. With the asking price for the few I did find was hovering around $100, I decided to make my own.
I started with a 20 gallon trash can for $17. After adding a washing machine valve for $3, some ABS pipes fittings for $7, a roll of sliding door mesh screen for $10, four cinder blocks for $5, and a flexible storm gutter joint for $2, the whole system cost me less than $40.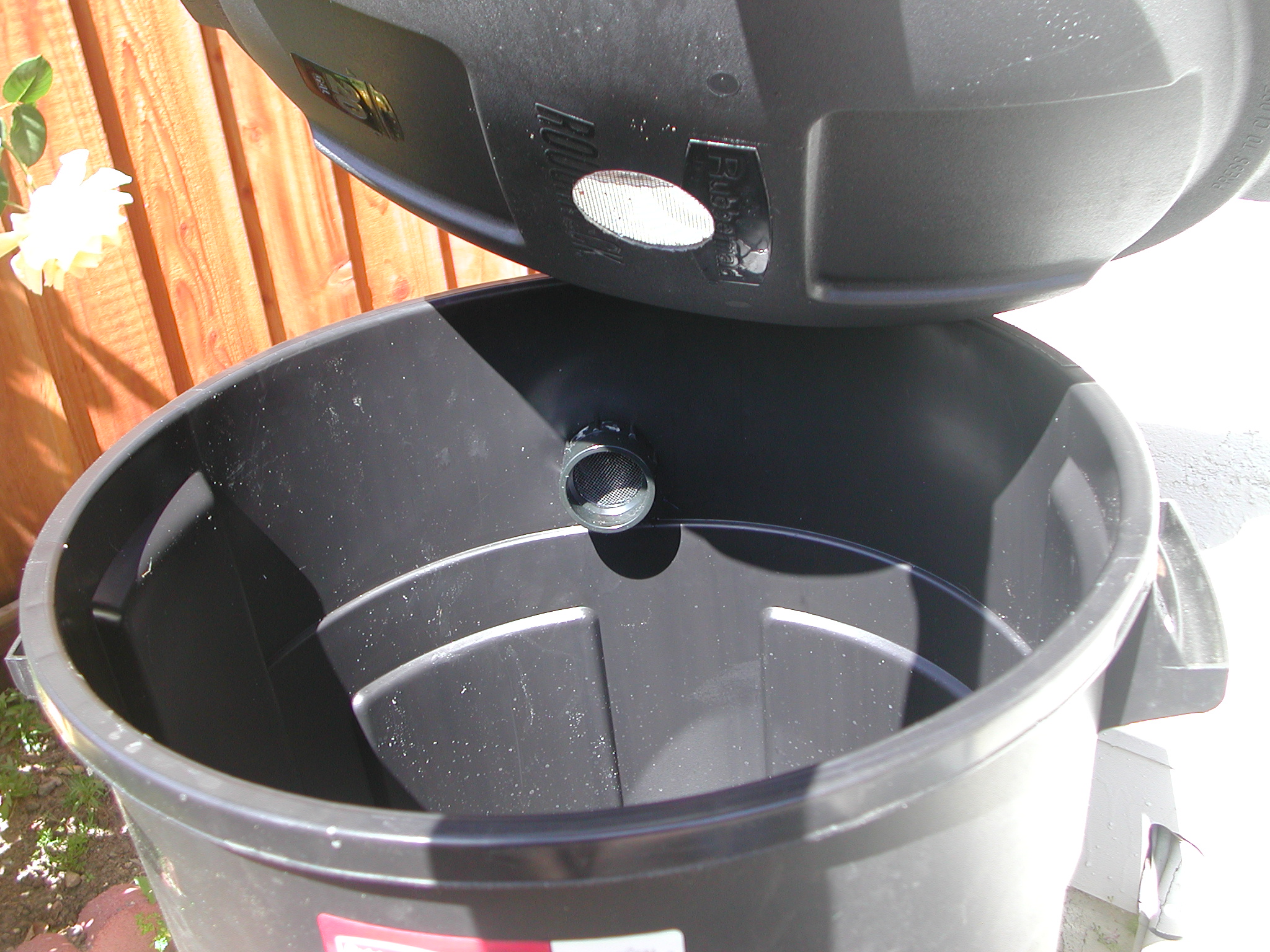 I cut two holes in the can and one hole in the lid. As you can see above, I mounted the washing machine valve as close to the bottom of the barrel as I could get it. I then turned the lid upside down and glued a square of the nylon mesh screen over the hole using ABS plumbing cement. This will keep mosquitoes out of the rain barrel while the inverted lid acts as a funnel to catch rain water from the down spout. I set the barrel on a platform of four cinder blocks, which raise it high enough to get my garden watering cans under the tap.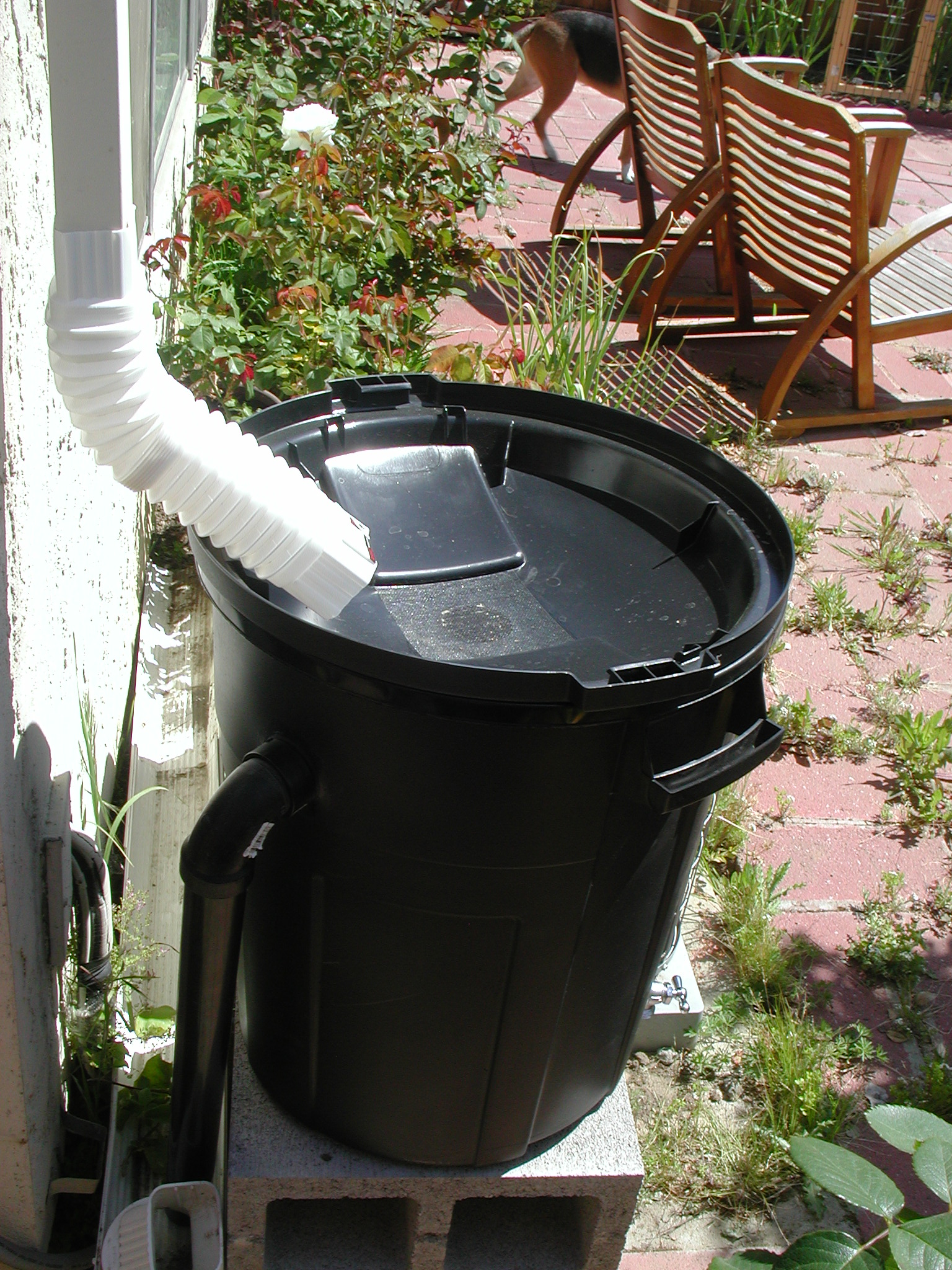 To finish the barrel, I mounted a 1.5 inch ABS overflow up at the top of the barrel, just below the lowest point of the inverted lid-funnel. This way, in very heavy rains, when the barrel reaches maximum capacity it will drain down into the previously existing gutter. Although you can't see it too clearly in the picture, I mounted another screen of nylon mesh in the overflow spout to keep the critters away from the water.
Unfortunately, rain is pretty seasonal here, and I've already missed the rainy winter months. But the best part of my new system is that we can use it collect recycled water in addition to rain water. Let me explain. "No… there is no time… let me sum up."
We use the shower a lot more regularly than it rains here. Ideally we'd have a gray water system installed to capture and treat shower water for irrigation or toilet flushing purposes. But we rent, so that's not really an option for us.
What we can do is recycle our daily cold water blast without too much effort. My readers from cold weather climates will be familiar with the phenomenon. You turn on the shower first thing in the morning and have to wait 10, 20, sometimes 30 seconds or more for the water to heat up before you can get in. And even if you have a "water saving shower head installed, it still puts out 1.6 gallons per minute. That's 0.3 to 0.8 gallons of drinking quality water you just sent down the drain to the waste water treatment plant without even using it. I could go into the amount of energy you consumed heating that water up and then just dumped into the uninsulated interior walls of your house while it sat in your pipes. But that's a topic for another rant.
We don't waste that water and you don't have to either. You can catch it in a bucket. Any bucket will do, as long as the rim is wide enough to catch the spray of your shower head. Leave the bucket in your shower so you don't forget to use it. Put it under the shower head before you turn on the shower in the morning and wait for the water to heat up. Once the running water is warm enough, remove the bucket, set it aside, and shower as usual.
Use the bucket to water house plants or an herb garden. Or do what we do: dump it into your rain barrel and use it to irrigate your vegetable garden. It's just one more little thing you can do to make your lifestyle more sustainable.