by Richard Perkins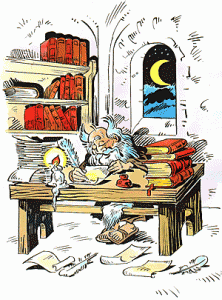 Well, you've put it off long enough. You've set your manuscript aside, let it collect some dust, forgotten most of the details, and read it with fresh and critical eyes. You've scratched down your themes, plot summaries, and character arcs in your little notebook. Now it's time to wade through your draft manuscript.
It's never gets any easier, no matter how well you prepare. Author Holly Lisle calls this step the slog with good reason.  I can't describe the process any better than she does, so I won't try. You just have to work your way through the writing, scene by scene. You have to give up your attachment to your own words, slash anything that doesn't advance your theme or develop your characters, and tighten up the prose everywhere else. It's exhausting, and I'm not very good at it. It's easy to lose steam, especially if the project needs a lot of work.
Case in point: I started my red-lines for Eliza's Story on September 6. I chose a target completion date and calculated how many pages I'd need to revise each day to reach it. I stayed on plan for exactly… wait for it… 4 days. Yep. You read it here… 4 days before I was sure that the story was crap and would never amount to anything.
Evidently, this is pretty common for unpublished authors. Published authors aren't immune either. Knowing that doesn't make the process any easier though. I did push through the wall eventually, and regained some lost ground in the last few days. Sadly, I still have a long road to travel and only a few days before visiting family brings my progress to a screeching halt again. The chart below shows the whole sorry tale.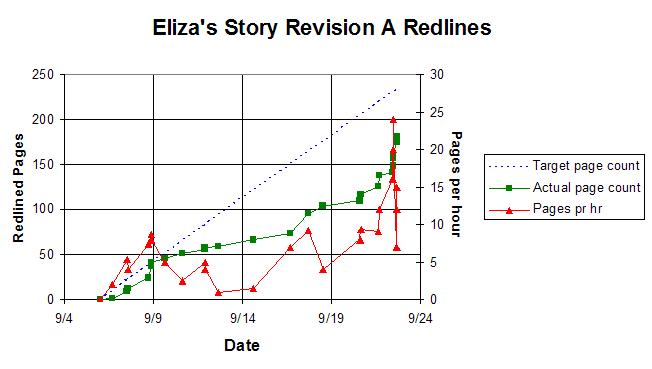 Will I finish red-lines before the weekend? Will I get revised copies out to my eager beta-readers? (At least, I hope they're still eager…) That's the plan. Well… plan is a strong word. Let's just say that's the strategy, and leave it at that. Wish me luck!
PS – I've only had one vote so far on my Thunderdome style title combat. Unfortunately, I just discovered that the leading title contender is already in use (by an erotic fantasy of the sword and sorcery variety, no  less). So Guardian's Path has been disqualified and Healer's Touch has been booed out of the arena. It's back to the title well for me I'm afraid.