by Richard Perkins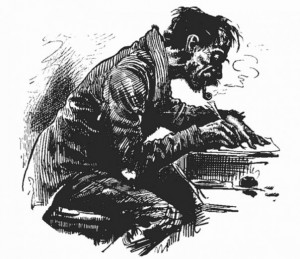 I finished the critical reading step of my revisions a few days ago. Now it's time to move on to step 2. Author Holly Lisle calls this step Discovery, in her one pass process, and I think that's as good a name as any.
In a nutshell, this is where you remind yourself why you wrote the book in the first place. What's it all about? You take out your notebook and write down the theme you were trying to capture in one concise sentences (15 words or less). If you have any sub-themes, you jot them down as well. You create a micro-summary for the entire book (25 words or less). This might be the way you'd describe the book to a new acquaintance at a dinner party, or a sound-byte in your elevator pitch. Then you describe your main character's journey in a single sentence: what they do, why they do it; how it changes them, and why readers should care. I have a couple of major supporting characters in this novel that could use the same treatment as well, so I'll have to generate at least 3 of these character arcs. Finally, you write a paragraph describing the story (250 words or less). Think of this as the rear jacket blurb that shoppers at the bookstore will read when deciding whether or not to buy your book.
If all this sounds like a lot of work to you, you're right. It is. This method really forced me to think about my first novel in unfamiliar ways: the ways an editor, publisher, or reader might. Talk about a mind-bending experience. I think aspiring authors need to think about their work from those perspectives if they're going to have any hope of getting published.
You might wonder why you should bother with all this discovery activity. Why not just get right into the editing and get it out of the way? You discover in order to organize your efforts. Writing, like most creative enterprises, is a somewhat chaotic and anarchic process. Editing is not. Readers need scenes that progress understandably, connect to each other, and mesh together to bring the story to life. They don't have access to all the background inside the writer's head: just the words we put on the page. Once you start the meat of the revision process you'll be scrutinizing each scene to find out if it suits your theme and sub-themes, if it advances the plot and the development of the characters, if it's important, and if it's vitally connected to the rest of the story. Before you dive in, it's helpful to lay the groundwork for your success, to create a cheat-sheet that you'll refer to as you're revising.
Some authors do this work as preparation before they start to write the novel. I think Holly Lisle is one of them. If you're that kind of writer, then this step will largely be a job of transferring and refining your pre-novel notes. If you're not, then you've got a bit of discovery work ahead of you before you jump into revision. Give it a try. It's worth it.