by Richard Perkins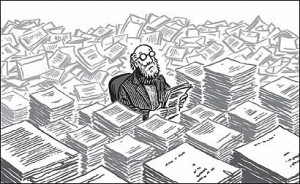 Now that I've got beta readers working on The Guardian's Hand, it's time to get back to work finding a home for The Renegade's Door. I wrote a post about finding a literary agent a few months ago. I'm hip deep in that process right now.
My first challenge was putting together a compelling query letter to send out to prospective agents. I wrote a draft letter and sent it out to some readers to get feedback. I revised it and then submitted it to my online critique group, The Critters Workshop. They shredded it (but in a good way). I worked all my critters feedback into my final version this week and then started customizing it for each of the entries on my prospective agent list.
Customizing a query letter, you might ask? What's that about? Every agent wants something different in their submissions. Some want to start with a well written query letter before they'll ask for a partial or full manuscript sample. Others want a letter, 5-10 pages of the manuscript and a synopsis of the full novel. Some only accept snail mail submissions. Others prefer email. Some want attachments in their submissions, while others want everything in the body of an email.
They want to know something about your novel (like who the protagonist is, the challenge he or she must face, and how he or she overcomes it). They want to know something about you as an author (like what you've previously published, if anything). And they want to know why you chose to query their agency or better yet, one particular agent within an agency. So you have to do your homework. You have to find out what the agent is looking for in new clients, what books they've sold recently, and make a connection between that body of work and the project you're selling. All of that in a one page query letter that's not too dry and boring to get through.
Sound like a challenge? It is, especially when you consider that most agent's acceptance rates are pretty far south of 5% of their submissions. It's a numbers game. If you want to get picked up as a new author, you must query widely. My first round list has about 25 candidates, and the odds are good that I'll have to make a second round before I find an agent.
However, if you send out form query letters, you're most likely to get form rejection letters. You have to tailor your requests to each agent you query, at least a little bit. I sent out two query letters this week and plan to send out a couple more each week until I see some results or lose hope…

In other news, there's still no progress on the paying gig front. The market is starting to turn around though. I'll be sending out more resumes again, when I'm not sending out query letters. I'm skipping NaNoWriMo this year. I need to recharge a bit before starting another writing marathon. Maybe in the spring I'll be ready to start a new project. I've been kicking around the idea of writing an urban fantasy for a change of pace.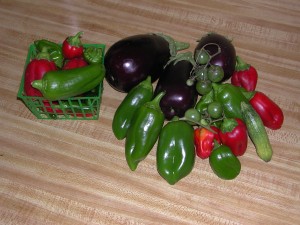 I brought in the last of our autumn harvest this week: a few eggplants and enough peppers to can. I cleaned up the vegetable plot and transplanted the winter crop from its seedling trays. This winter we'll have radishes, beets, and carrots (if the carrots cooperate). We've also got arugula and red and silver swiss chard in the leafy greens family, and a nice row of garlic in the ground for the spring. Happy Halloween everyone!