by Richard Perkins
December is here at last. One of the gifts December brought me in its big red sack of goodies was the end of National Novel Writing Month 2008. I spent the month of November tied to my keyboard, fingers numbly toiling against my first actual writing deadline: to generate an original 50,000 word novel from start to finish in 30 days. Drum roll please…

Tada! I'm proud to say I did it. The first draft of the Renegade's Door is now finished with 52,058 words. It comes in at a slim 104 pages when printed on letter size paper, and would probably be about 175 pages in small format paperback. I spent 92 hours writing this draft, not counting the prep work during October: character descriptions, scene descriptions, plot outline, etc. And to think, this story was nothing more than a bunch of note-cards on a whiteboard a month ago!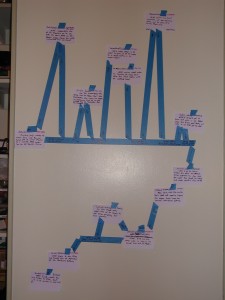 In addition to the excitement of actually crossing the finish line, I have definitely felt a little bit of a letdown. Now that the immediate hurdle of the first draft is behind me, I'm now faced with the seemingly insurmountable task of revision. A 52k word draft is a far cry from the readily salable 90k-120k page turner that typical publishers expect in a non series adult fiction manuscript. Chris Baty, founder of NaNoWriMo says it takes him about a year of night and weekend work to turn a 50k first draft into a 90k second draft. Uggh.
I'm thinking I may give author Holly Lisle's One Pass Manuscript Revision Method a try. I work better to a near term deadline, so maybe this method will work for me. It goes without saying that I'm definitely not looking forward to this part of the noveling process though. I've heard the novel writing process likened to a marathon, and NaNoWriMo compared to a sprint that just happens to be a bit over twenty-six miles. Now I'm feeling it's a bit more like a triathlon. I've just finished the first stage, and though I'm exhausted, there's still two more stages to go…

My final stats chart is below, for those of you who like to see trend-lines and graphs.