by Richard Perkins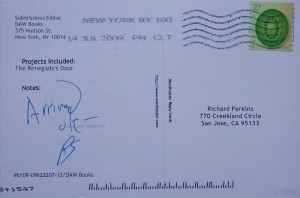 Yep, I've got the old slush pile waiting game blues. I received a reply card from DAW books recently, the second publisher I have sent the manuscript for The Renegade's Door.
So DAW has the book sitting on their slush pile of unsolicited manuscripts. Now I have to wait for them to decide whether they're interested or not, which could take another three months or more.
The DAW submission package was a little different than the one TOR outlined in their submission guidelines. Instead of a cover letter, a synopsis of the book, and the first three chapters of the manuscript, DAW editors want the author to send along the entire manuscript and a cover letter.
Honestly, I like DAW's approach better. I had trouble condensing my novel into a couple of pages of synopsis without it sounding like a very dry and uninteresting history. And since there was no feedback with the rejection that TOR sent me, I'll never know whether it was poor synopsis writing, or some other factor that tanked my chances with them.
As you can see from the reply card picture above, I sent out this second submission through WordHustler. So far their service has been pretty straightforward. Their market listings lack quite a few of the entries I can find in my 2009 Writer's Market, especially for literary agents. But they do have options for adding other markets manually, which I may end up using when I decide where to send Renegade next.
I've pretty much exhausted the major publisher imprints that accept unsolicited manuscripts. If DAW rejects Renegade like TOR did, my next target will have to be an agent or a smaller publishing house that works in fantasy. If all else fails, Renegade is ready and waiting at CreateSpace if I decide to go the self-promotion and distribution route.