by Richard Perkins
It's been a few weeks since my last journal post. I've been spending all of my writing time on Renegade's Door revisions, but I'm happy to say that I finished the lasts scene late last night! Hooray!
I have a copy out with my volunteer proofreader right now (and my heartfelt thanks to Colleen for that). This revision took a quite a bit longer than I had hoped. My original strategy just wasn't working so I changed tactics. I knew I had three brand new scenes to write and then shuffle into the original story line. But treating those new scenes the same way I was treating the rest of the draft manuscript proved to difficult to manage.
Instead I put my revisions on hold and dove into the three new scenes, NaNoWriMo style. I wrote short outlines for each scene and then sat down and drafted them. Start to finish, no revisions, no second guessing: just piling up the word count and following the scene outlines.
Here's a NaNo style word count chart for the new draft work.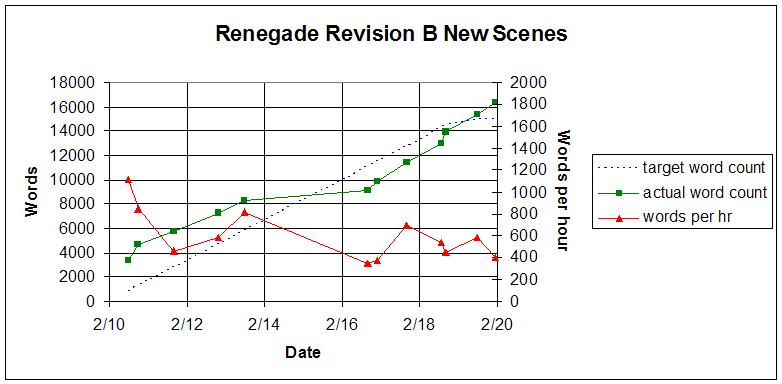 Once I finished the drafts of the new scenes, I inserted them into the manuscript. I tried to be environmentally conscientious and do my revisions directly on the computer, but it just wasn't working for me. So I killed a few trees and printed hard copy to use in my next round of one-pass revision (thank you Holly Lisle…). Since my first round of revisions were red-lines, I called this pass blue-lines.
It took me several days of scribbling, scratching out, adding new pages, and tearing up old ones to get the story into shape with the new additions. It didn't help that Frankie Manning Weekend was right in the middle of it… I didn't get any editing done while we were up in Oakland dancing. But hey, a guy has to have his priorities right?
Since my blue-lines were completely in hard copy format, I couldn't track word count on the fly. And after a second look at my Racing the submission post, it didn't seem like a particularly relevant metric anyway. Instead I kept track of completed scenes (chapters) and running page count. You can see my tracking chart for the blue-line revisions below.
My final step was to transcribe all of my revisions from the hard copy back into electronic format. That went a little faster. But it still took a couple of days to wade through it all. (Hey sometimes even I can't read my hand writing… what can I say?) Here's my final chart for this novel (really… I mean it this time…)
After my proofreading angel finishes her markup, I'll wrap everything up and shop it around to potential publishers. First up: Tor books. I know, I know… I'm a dreamer. But over one third of the books on my recent reading shelf are published by Tor. I like the stuff they print, and I write the kind of stuff I like. Seems logical enough to aim high first. If they shoot me down, I can always submit to some of the smaller, more adventurous publishing houses later. I'll post an article or two about the submission process as I go through it, for those of you who are aspiring novelists yourselves.
And while Renegade is sitting on the shelf waiting for a publisher to run with it, I'll be starting on my next adventure. Eliza has been whispering in my ear a bit lately. She thinks the next story should be about her. Maybe she's right. I'm debating about participating in JulNoWriMo to get the draft written (that's in July…).
That doesn't leave me much time to get an outline, character, and scene descriptions completed… and if I find full time work that will be even harder. (For those of you keeping track, I don't have any new prospects on that front so it doesn't seem likely.)
Anyway, cheers from the (wannabe) writer's desk.