by Richard Perkins
I'm afraid that I'm running out of steam on Renegade. Already I find myself thinking about themes for the next novel as I drift off to sleep. And my progress on the manuscript has been maddeningly slow lately. In order to inject a bit of urgency back into the work, I have decided to set myself a couple of deadlines.
That worked pretty well for me for NaNoWrimo in November. During the contest I had a target word count to achieve in a specific time. Like the geek that I am, I charted my progress against a trend-line throughout the month. The chart below really helped keep me motivated to stay at the keyboard and crank out the pages.

But revising a draft manuscript doesn't lend itself to tracking by word count. And just keeping track of the hours I've spent revising doesn't really help either. How many hours per day should I expect to spend? How many hours of editing will the book require before it's finished?
So I've decided to focus on scene completion rate instead. I don't expect the story narrative to change that much before the manuscript is ready for its next submission, so I know how many scenes to expect. For example during my first revision for the pre-read copy of Renegade, I had twenty scenes that I wanted to have ready for readers by January 7. Looking back through my manuscript save points for that first week in January, I was able to create a chart with the rate of scene completion. I threw in the running word count as an extra.
There weren't that many data points, I know. I did most of the initial revision with a hard copy and a red pen per Holly Lisle's one pass revision process. Only after I thought everything was in decent shape did I get back on the computer and start transcribing my notes into the edited pre-read version.
Now that I have all the feedback I expect to get from my pre-readers, I have decided to add a few more scenes and change the way some of the original scenes were organized. The result is that I now expect to have a twenty-four scene manuscript when I finish with the next round of revisions. I have decided to submit the manuscript to my first potential publisher by the end of February. I have another friend who has volunteered to do some proofreading for me before I submit. So I have to give her three or four days to read the novel and myself another couple of days to edit from her red-lines and get a clean copy shipped. That means my submission revision needs to be done by February 21.
And voila! I now have a plan to track my progress against. It looks like this.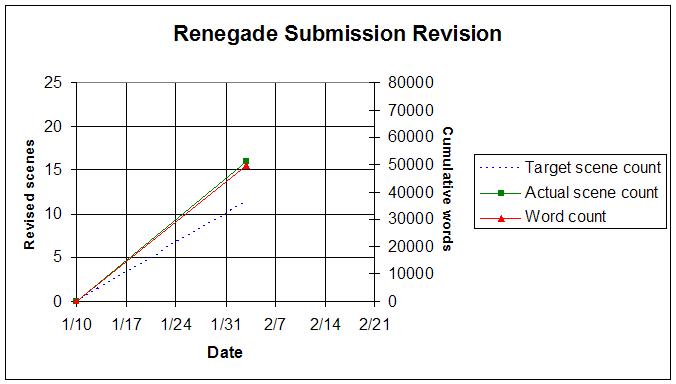 I started responding to pre-read feedback in mid January and have actually whipped the first 16 scenes into good shape already. That puts me ahead of plan… for now. But the second half of the novel requires the most rework. Scenes 17, 20, and 22 are all completely new scenes, and the rest of the scenes around them have to be revamped to make the transitions work.
On top of that, I still have to identify which of the publishers on my short list to submit to first. So I've got my work cut out for me for the rest of the month! Wish me luck.