by Richard Perkins
On Monday I returned home from a three day, two night, thirty mile solo backpack along the Ohlone Trail.  I hiked from the Stanford Avenue parking area at the foot of Mission Peak to the Lichen Bark parking area in Del Valle. Bella couldn't come along on this trip because dogs are not allowed overnight in any of the four parks this trail connects, sadly. Margot also declined the trek this time around, but dropped me off on Saturday at Mission Peak and picked me up on Monday in Del Valle. I bought my Ohlone Wilderness Regional Trail permit online about a month before the trip to make my plans. Then a week before the trip, I made camp site reservations by phone (1-888-EBPARKS, option 2, then option 1). The whole process was very easy to accomplish; hats off to East Bay Regional Park District.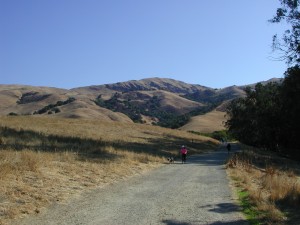 It was nice to get out on the trail again, and in early October the weather was just about perfect for this trip. The first day started with the ascent of Mission Peak. Nothing like a daunting 2200 foot climb in 3 miles to jump start a hike. I didn't bother to hit the summit on this trip, since Margot, Bella and I did that on a day hike just a few weeks ago. You can see pictures and read about that hike in my Mission Peak post.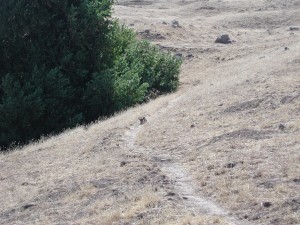 So instead of heading up the Peak Trail, I continued around the backside of Mission Peak on the Eagle Trail at OT Marker 5 at 2.7 miles. During a quick detour to Eagle Springs campsite for a rest and a snack, I ran into this furry fella. It seems a little bobcat was shadowing me in the vain hope that I would flush something tasty out of the grass in his direction. No luck for him, although I did see a redtail hawk fly off with a ground squirrel dangling from its talons.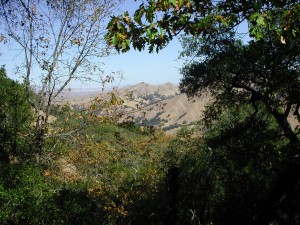 After leaving Eagle Springs behind, I crossed over into San Francisco Water District lands at OT Marker 9 at 4.8 miles. This was some of the prettiest hiking of the trip. The well graded path cut through steep sided canyons shaded by stands of mixed oak, occasionally opening to sunny mountain meadows. Really gorgeous country and very isolated. After I left Mission Peak behind, I didn't see another hiker until Sunol visitor center 5 miles and 2100 feet of descent later. There were others enjoying the trail though. In an excellent example of harmonious multi-use, I found a tarantula moseying along less than twenty yards away from a flock of wild turkeys. A half a mile further on I startled two deer, who trotted off into the dubious cover of the sparse trees.
I stopped at Sunol visitor center near OT Marker 12 at 8.5 miles to eat lunch after leaving the water district lands behind. There were several dayhikers out in Sunol as I returned to the trail. This section of the trail has a lot of short but steep uphill and downhill jogs. It's scenic in a rugged, dry, windswept kind of way, but taxing after a long day day slogging under the weight of a 40 pound pack. I finally arrived at the Sunol Backpack camp at OT Marker 19 at 11.9 miles. How did I know you ask? A big sign told me of course! (It also informed me the camp was proudly built by Civilian Conservation Corp members and other volunteers in 1928.)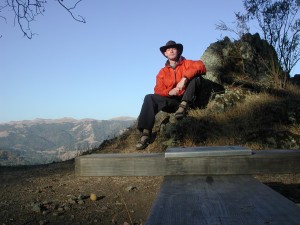 Hooray, I've finally made it, right? Umm… almost. It was just a short 0.2 miles from the entrance of the backpacking area to the water trough, which conveniently was right next to Hawk's Nest, my campsite for the night. The kicker was that I had to climb 300 feet in that 0.2 miles, no joke. Not exactly the kind of news you want to get at the end of a long dusty day on the trail.
But at least the view of the valley from my campsite was breathtaking. Can't beat that!

So that was the end of Day 1 for me: 6 hours (including a lunch stop), 12 miles, 3400 feet of ascent and 2300 feet of descent. Certainly no land speed record, but a respectable day for me and my knees. Here's a teeny, tiny picture of the trail map and elevation profile. Get out your magnifying glass, hee hee!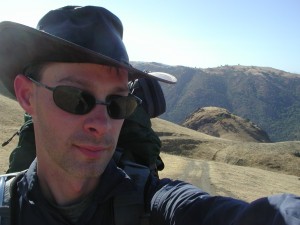 Day 2 dawned cool and crisp. (I just love using that word to describe an autumn day, don't you?) I broke camp around 9:30 after a bit of a lie-in, but still left the camp before any of the other backpackers in the Sunol camp started to stir. Of course, they were up carousing a bit later than I was, in all fairness

. I climbed quickly into another section of San Francisco Water District land, but it was not nearly as pleasant as the block on the other side of Sunol had been on Day 1. The whole of Day 2 was higher in elevation, more exposed, and windier. Climbing uphill into a 20 knot headwind under a full pack is thirsty work, even if it is a "cooling" wind.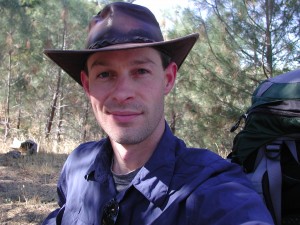 I ran into three backpackers coming the other direction around OT Marker 22 at 14.4 miles. They had spent the night under a roaring wind on Maggie's Half Acre at the foot of Rose Peak. I diverted from the OT at Marker 28 at 18 miles to stop at Maggie's for a spot of lunch and a short rest. (In case you're wondering how I managed to turn a 27.9 mile trail into a 30 mile hike, that's how. I took a few side routes to mark camp site waypoints and scenic points

)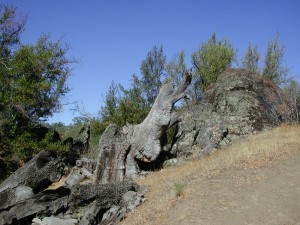 After finishing up lunch, I met Susan and her chocolate lab Kona, dayhikers who had come in from Del Valle to climb Rose Peak. Since that's where I was headed after leaving Maggie's, we made the climb up to the summit where we met two of her friends, Charlene and Dana. They were headed back to Del Valle, so I walked with them as far as Stewart Camp, just off the OT after Marker 33 at 21.5 miles. These three are what you'd call serious dayhiking die-hards. They've been scouting the trail in sections for the past month or so in preparation for a major assault. They plan to hike the entire Ohlone trail from Vallecitos camp in Del Valle to Stanford Ave in a single day. I think the date is Saturday, October 18. That's 28 miles in one day for those of you keeping track at home. That rates as seriously hard-core in my book, even if it is without the weight of an overnight pack. So if you see Susan, Charleen, Dana, and their intrepid wonder lab Kona next weekend, wish them good luck and happy hiking from Richard.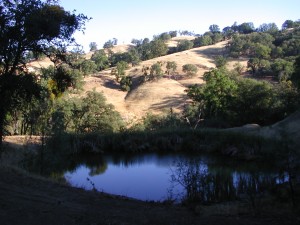 My stop for the night was Stewart's camp on the Greenside Trail. I arrived there just before 4 PM with plenty of time for dinner and some relaxation. This site was not nearly as nice as the Hawk's Nest at Sunol on Day 1. And it was "blessed" with recent horse droppings from the party that had stayed the previous night. Ahh, the smell of nature. You win some, you lose some. The view across the canyon was still pretty at least. The sun set early behind the steep canyon walls, but left the top of the far canyon wall lit. As I ate dinner, I watched two hikers on the ridgeline, outlined against the clear blue sky as they followed the Ohlone Trail back toward Del Valle. There was this pretty little pond cupped in a bend of the valley below the camp, drawing out the local birds. I saw scrub jays, acorn woodpeckers, and one large bird soaring the thermals that may have been an immature bald eagle, though I couldn't be sure. After the other side of the canyon reluctantly let go of the sun's golden glow, I settled in for bed.
But sleep didn't come easy for me on Day 2. I was jarred awake by the hunting cry of a screech owl. If you've never heard one of these guys, think scream of a dying hiker being dragged into the underbrush by a mountain lion, and you'll be pretty close. Chilling. Especially when the intermittent calls gradually drift up the valley. During the dark hours between sunset and moonrise. To the clearing where you're camping. Alone in a bivy sack.
I did drift into a fitful sleep after the owl finished its hunt. Until the tell-tale crunch of fallen leaves underfoot jolted me fully awake. I sat bolt upright in the moonlight. I'm not sure who was more startled: me, or the deer making a beeline through my camp. The deer startled and bolted up the hill, but clearly had an objective, and was not easily deterred. So I spent the next half hour listening as it cautiously skirted around me to the running spring on the hill behindthe camp. Don't ask me why it didn't just drink from the little pond. Maybe the spring just tastes better? Who knows?
That was finally the end of Day 2 for me: 8.5 hours (including a lunch break and a stop at Rose Peak), 10 miles, 3200 feet of ascent and 1500 feet of descent. You can see the trail map and elevation profile below.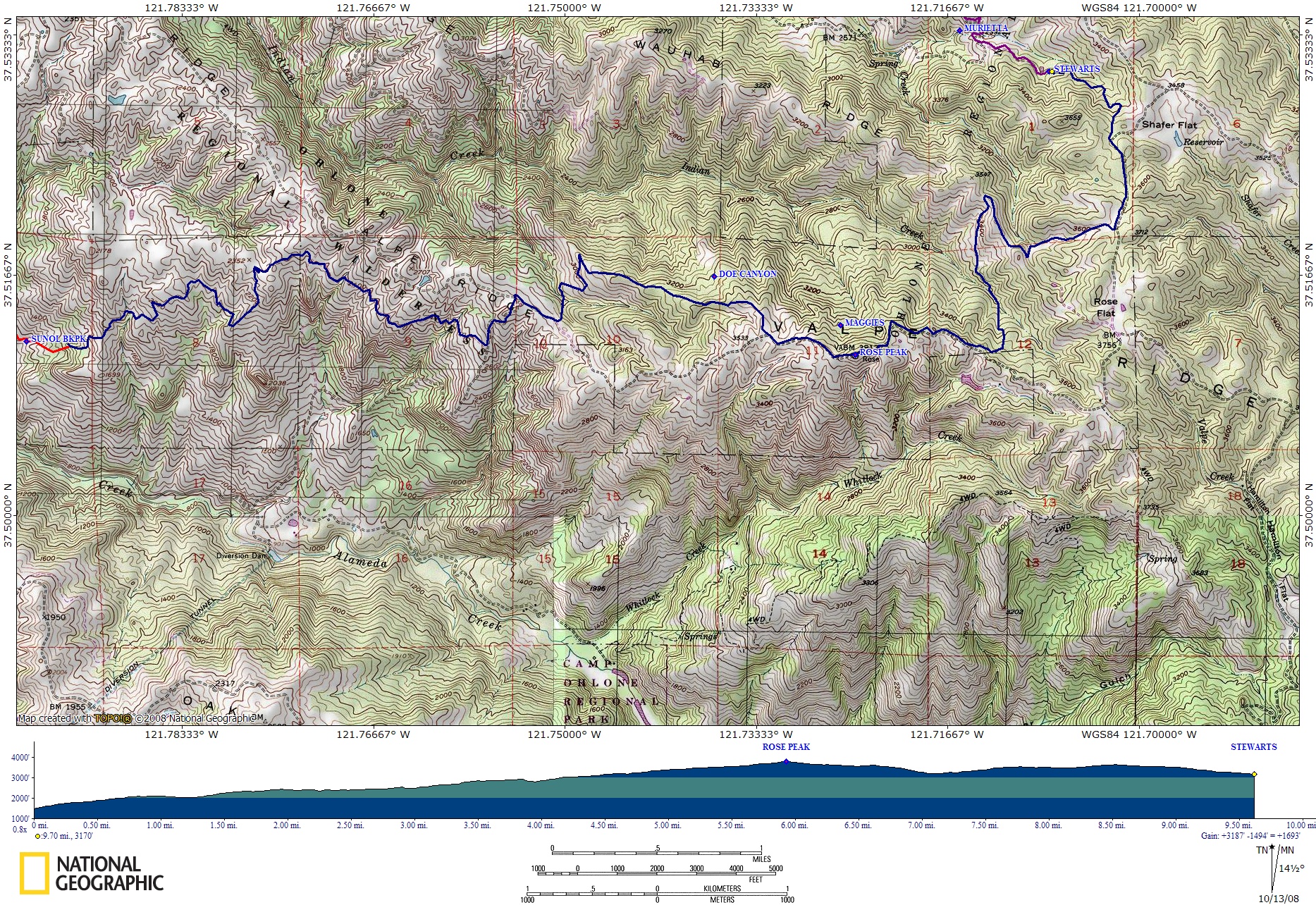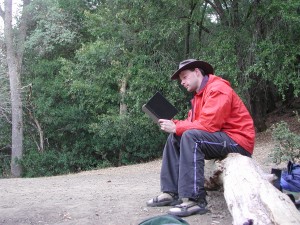 Day 3 woke me with clear skies and a light morning breeze. Despite the interruptions, I slept fairly well. I did wake up a little after moonset and watched the stars for a while. I counted three fast moving satellites among the stars overhead before drifting back to sleep. There aren't too many places in the Bay area where you get low enough light levels to do that anymore. After a quick breakfast and a journal entry at the camp, I was back on the trail by 9AM.
My route for Day 3 would take me along Greenside Trail and past Murrietta Falls before rejoining the Ohlone Trail at OT Marker 35. I've read that this waterfall, the tallest in the San Francisco Bay area, is as beautiful as it is remote. Unfortunately for me, it was bone dry this time of year. I did my best to visualize it in its full flowing glory, but my imagination wasn't really up to it. Looking down on the dry gully from above, I found myself thinking about what a long shadow human activity casts on the natural world. As a hiker, I consider myself both concerned for and aware of the world around me. But even as an outdoorsman who tries to travel lightly, I leave a footprint behind.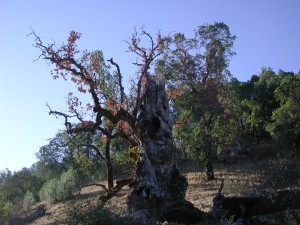 After rejoining the Ohlone Trail, I had 5.4 miles and 2600 feet of elevation loss to go. Unfortunately, the toe nail lifting Big Burn  and Little Burn descents were part of that mix. Time to tighten up the shoe laces and pack straps, it's a long way down! It could have been worse. I don't think I would have wanted to hike in the other direction. At least the wind had died down on Day 3 to a gentle breeze. And I had a well signed trail complete with sentinel trees like this one to point the way and provide encouragement.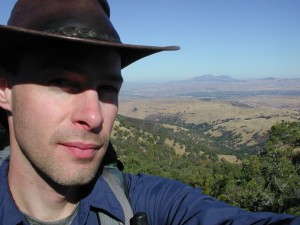 Just before the Big Burn started in earnest, I stopped at Schlieper Rock, named for a 1940′s silversmith. From a careful perch atop this stone formation, you can look out over Livermore Valley to the north all the way to Mt. Diablo. You can see the dense forest of mixed oak on the shoulders of Williams Gulch below you. Here the wide graded trail turns into a narrow footpath with steep switchbacks. And Williams Gulch is a long way down: 1.4 miles and 1200 feet of descent. the inner monologe went something like this.
"I have to climb all the way to the bottom of that! Why on earth would I want to do that?"
"Just so I can climb back up the other side, of course!"
"Which is equally as steep?"
"Yes, but not quite as long."
"Right…"

I passed a lone dayhiker just as he cleared the last of the Big Burn on his way to Rose Peak. Even in shorts and a t-shirt on a relatively cool autumn day, he was drenched in sweat. I'm glad I was headed down hill instead of coming up! As the trail opened back up onto a widely graded fire road between Boyd Camp and OT Marker 40, I caught a glimpse of my destination, Lake Del Valle. There was still over a mile to go, but I was definitely in the home stretch.
I signed the trail log at OT Marker 40, officially ending my stay in the wilderness. Then I walked the final mile down the descending fire road of Sailor Camp Trail to Lichen Bark parking lot where Margot and Bella were waiting for me. And that was the end of Day 3. 4 hours, 6.6 miles, 1100 feet of ascent and 3500 feet of descent. You can see the Day 3 trail map and elevation profile below.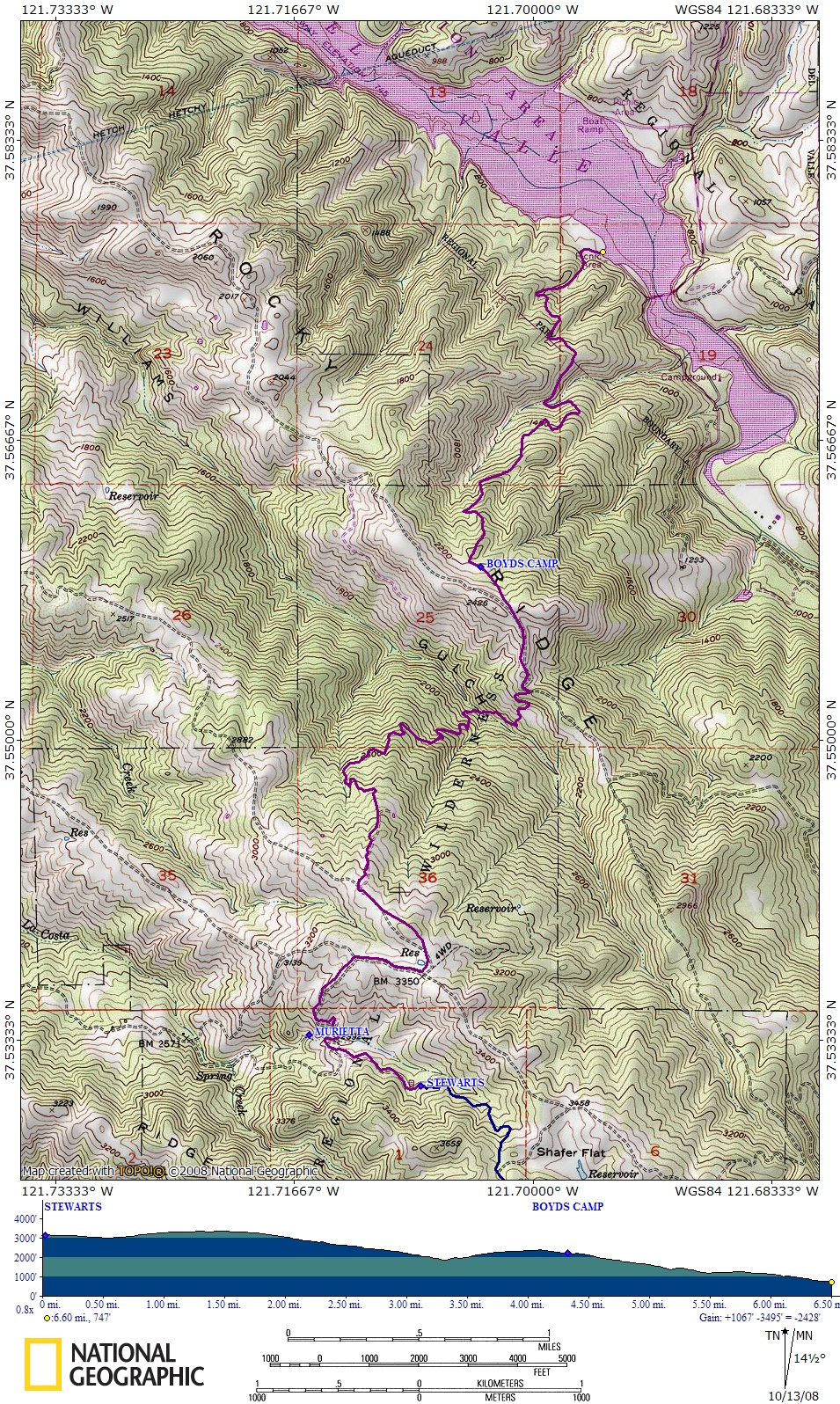 This brings the overall trip total to 18.5 travel hours,  27.9 miles (30 with side trips) 7700 feet of ascent and 7300 feet of descent. Happy hiking!