by Richard Perkins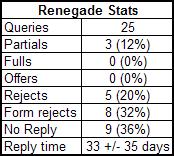 I reluctantly closed the door on all my outstanding submissions this week. The last agent on my list had lost my submission. After sending it to him again, he said he'd look at it right away. It's been over two weeks now, so he can't be too excited about the manuscript. It's time to call a duck a duck, and Renegade is quacking.
I'm working with a handful of critique partners to improve the manuscript now. I've decided to get the story into the best shape I can through reader feedback and judicious revision before taking further steps. There are two potential paths forward: second-tier publishers and small print houses, or self-publishing this novel while I crank out a new project.
Opinions vary pretty widely on self-publishing these days. Member of the traditional publishing market are understandably queasy about self-publishing. Some of them, like agent Nathan Bransford, still offer fairly even-handed advice about the topic.
The short version is that self-publishing and POD are not the quick-and-easy path to publishing success that aspiring authors wish they were. If you want to publish your story yourself, you have to be prepared to do all of the work that a traditional publisher would normally do for you. Authors often forget that publishers have an editorial staff, a roster of layout and cover artists, a promotion and marketing team, and an established network of distribution channels working for them. If you fly solo, you'll have to be prepared to do some heavy lifting.
But I may decide to do that anyway with this first book. I'd like to see it in print at least, even if it's only for a small audience. I already have a first edition of Renegade, printed through CreateSpace. Once I revise and roll Critter feedback into a second edition, I'll probably re-release the book for general purchase through Amazon. I'll probably create Kindle version as well and then do a word of mouth promotion blitz through my blogs and social networks. I'm also thinking of a special project to help with distribution. I'd need a few volunteers though, scattered around the country (and possibly around the English speaking world). It would be a stealth project, so all of my volunteers would have to be sneaky. Add a comment below or send a message through the contact form to find out more.
In other news, I had a first-round job interview yesterday with a Bay area CPV company. I think it went well, but you know how subjective that can be. For anyone interested in renewable energy topics, I've posted a new article on Tidal and Ocean Current Power in my Renewable Energy Tech series. You can also find it at Associated Content.