by Richard Perkins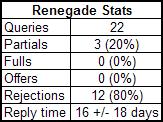 This will be a short post today. There hasn't been a lot of news with the holidays approaching, and my progress has been dismal.
I've sent out a few more queries and received two more rejections since my last update. Then there was the agent who simply didn't respond to my query one way or the other. If he said he'd get back to me in two weeks and there's been radio silence for five weeks, he's probably not interested. (It wouldn't be the first time I've chalked up a "no-response" as a rejection.)
In much the same way that many people only RSVP to an invitation if they plan to attend, there are a fair number of agents who don't seem to like writing rejections. I can sympathize. Personally, I'd rather know I'm not in the running than wait and wait on the off chance the agent just hasn't excavated my query from their slush-pile yet.
Then again, I don't have to read through a few hundred unsolicited submissions a week, most of which are completely unpublishable. So I can sympathize.
Happy holidays everyone!