by Richard Perkins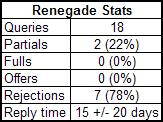 Where did the week go? You write a manuscript critique or two, send out a few agent queries and a handful of resumes, and before you can say rejection, it's Friday again. That means it's time for another agent search stats update.
As you can see from the table, my response time is still pretty speedy, because most of my responses are from agents who take electronic submissions. I'm also starting to look for trends in my responses, to see what I can glean from them. Here are some of the tentative conclusions I've drawn so far:
1) My query letter is attracting the right kind of attention.
2) My prose is pretty good, but not stellar.
3) I may have better luck with another book in a different genre in the current market.
It's tough to draw much from query responses, since so many of them are form letters. However, the two partial requests I received came from agents who had only seen a query letter without a synopsis or sample pages of any kind. And they came quickly. The first arrived 4 days after submission and the second came back 2 hours after submission. That suggests that the query letter is working.
Unfortunately, the manuscript isn't closing the deal. The remaining responses that weren't form rejections said that my writing shows promise. Evidently not enough though. That kind of feedback encourages me to keep writing, but tells me I still have to work on my craft . (Probably a good lesson for every author, published or not…)
The third conclusion is an inference from the scraps of feedback in my rejections and the scuttlebutt floating around on various agent blogs. Evidently, it's very challenging to sell epic fantasy right now. Unless you've got an established fan base, or you've written something that really stands out, publishers aren't looking for big fantasy. Agents are understandably reluctant to take chances on debut fantasy novels that are only "pretty good," like (evidently) Renegade.
So where does that leave me? About the same place I was before I started this agent search. My strategy hasn't really changed: I've still got another 20-30 highly regarded agents to work through on my target list. I've still got The Guardian's Hand to overhaul once I have my remaining reader feedback in hand.
However, instead of forging ahead with the third installment of the Renegade's Legacy after Guardian, it might be time to write something in a different genre. Maybe urban fantasy, military fantasy or science fiction. Or perhaps something else entirely. Who knows?
If you have suggestions, you know how to find the comment box!