by Richard Perkins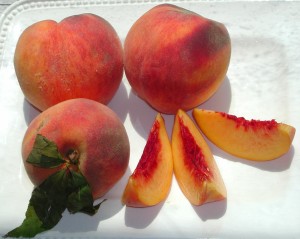 I love the Alum Rock Farmers' Market. The produce is fresh, local, and some of the best stuff you can find in San Jose. This time of year is a special favorite for Margot and I. Why? Peaches. I'm not talking about your canned-in-heavy-syrup peaches, or your shipped-to-grocery-store-year-round-in-refrigerated-freight-trucks peaches. I'm talking about peaches so sweet you could make a pie with no sugar. I'm talking about peaches so juicy, you literally have to lean over the sink when you bite into them. I'm talking about Peaches, with a capital "P." Nothing says summer like that first luscious bite of golden, melt-in-your-mouth goodness, and once you've had the real thing, nothing else stacks up.
But what do peaches, or Peaches for that matter, have to do with literary agents? Well, the same holds true for both agents and peaches: If you want to find a good one, you have to know where to look, and how to look. I'm learning both in my ongoing agent quest for The Renegade's Door. In the hopes that my experiences might help other aspiring authors, here are some of the things I've learned.
Where to look
Writer's Market publishes a Guide to Literary Agents that's pretty broad in scope. They also have an online database that gets updated more frequently than once a year, but I haven't used it.
Agent Query is a free online resource with an enormous searchable database that allows you to search an agent by genre.
You can also use Publishers Marketplace to search for agents by genre, location, association memberships, and many other characteristics.
LitMatch is another online directory of agents with search criteria similar to Publishers Marketplace, as is QueryTracker. There are other resources out there, but I haven't tried them, so I can't comment on their utility.
How to look
This one is trickier. There's only one shortcut that works here. If you know a published author who is familiar with your work they might refer you to their own agent or another agent they are acquainted with. If you're an unknown quantity in professional publishing circles (like I am), you'll have do it the hard way.
The print edition of Guide to Literary Agents has many helpful articles on how to find and approach agents. That's right, I said agents, plural. Since agents usually only accept 2-5% of the queries they receive, this is a numbers game. You will get rejected many times over before you find the right agent for you and your work. Persevere. Don't give up. Don't stop writing.
There are also a growing number of agents writing blogs. Start by running a Google search for literary agent blogs. In particular Nathan Bransford's blog is a great source of agent related information.
All of the resources above are great for generating a relatively undifferentiated list of agents for your area of writing. But as writers, we don't  just want an agent, we want an Agent (note the capital "A"). One with the best sales record we can get in our target market. A bone fide rock star. How do we find that?
Once you have your long (very long) list of agents, there a few great online resources you can use to check up on them.
Publishers Marketplace – some agents post their recent sales here or you can subscribe to view their deals database.  If you're lucky, some angel will have compiled a list of sales announcements sorted by agent, like Melinda Goodin's Locus Sales Spreadsheet for Science Fiction and Fantasy. Use information like this to sort your agents by rate of success.
Predators and Editors is an invaluable resource for any writer. Visit it. Read it. Know it. If any of your prospective agents show up as "not recommended" on their lists, drop 'em like a hot rock on a summer day.
Visit Absolute Write Water Cooler Forums and search the Bewares and Background Check thread for the names left on your list. See what other writers and aspiring writers have to say about the agents you're considering.
That's it. Now that you've got your screened list of agents, ranked by success and vetted by all the resources at your disposal, start sending out query letters. Check each agent's submission guidelines (most of them are posted online these days) and alway, alway, always give them exactly what they want. No more. No less. Writing a good query letter is an artform in itself. Since none of my queries to date have been accepted, I can't pretend to offer advice on that front. But check Nathan's site, and other agent's blogs for suggestions on killer queries.
And best of luck to you. We all need it in this business!